The Sustrans Big Walk & Wheel

The Sustrans Big Walk and Wheel is underway at Curwen Primary School and North Beckton Primary School joining school's across the country in UK's largest school walking, wheeling, scooting and cycling challenge.
The Sustrans Big Walk and Wheel, formerly Big Pedal, runs from 21 March to 1 April 2022. It highlights the benefits an active school run can have on children and young people's physical and mental health and on the environment. It also saves fuel and public transport costs for parents.
During the two-week challenge schools compete to record the greatest number of pupils walking, wheeling and cycling to school. Schools are entered into a daily prize draw for rewards including equipment and accessories if over 15% of pupils walk, wheel, scoot or cycle to school on that day of the challenge. The daily leaderboards can be followed at https://bigwalkandwheel.org.uk/.
Sustrans Big Walk and Wheel shines a light on how possible it is to swap polluting vehicles for a healthier, more active way to do the school run. Helping families to travel without a car is critical to cleaning up London's air.
In a YouGov survey in 2021, half (49%) of UK school pupils said they were worried about air pollution near their school, while 57% of pupils described the environment around their school as having too many cars.
School Streets in Newham to improve air quality
Newham Council has delivered 14 Healthy School Streets in the borough. These prevent motor traffic on streets outside school at drop-off and pick-up times, making it easier and safer for people to travel actively to school. Five are already permanent. The council has launched nine more under experimental traffic orders and will be launching 11 more later this year.
A FIA Foundation and Bloomberg Philanthropies funded study on the Mayor of London's School Streets programme found that closing streets around schools to motor traffic at drop-off and pick-up times reduced levels of one of the most dangerous pollutants, nitrogen dioxide, by up to 23%.
Pollution levels in London are above World Health Organisation recommended limits. And the biggest cause of air pollution in the capital comes from road vehicles. Co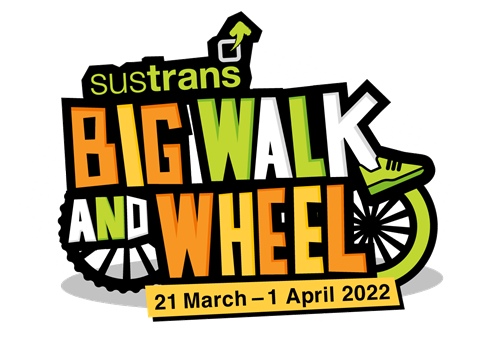 uncils must do everything in their power to transform their streets, making them safer and healthier for walking and cycling.
Sustrans London Director James Cleeton said: "Our Big Walk and Wheel is a brilliant opportunity to shine a light on how great it is to walk, wheel, scoot and cycle to school. It's an easy way for schools to encourage more families and children to choose active forms of travel and making them a permanent lifestyle choice. The school run can provide an important period of physical activity for children and form part of the recommended 60 minutes of daily exercise.
"But for pupils to make the change and do this all through the year, it makes sense for longer term measures like School Streets to be put in place. And when councils like Newham start to transform their street space and put in place School Streets, that is when real change happens. People start to feel the benefits including cleaner, healthier air and less congested streets."
Newham Council Cabinet Member for Environment, Highways and Sustainable Sustainable Transport, Councillor James Asser said: "I am proud that we have launched Healthy School Streets in Newham, which has shown to successfully reduce air pollution and improve road safety for children and the school community. It's encouraging to see some of our schools taking part in the Big Walk and Wheel.
"As a borough, we are working hard to make Newham a great place where everyone feels safe to walk and cycle everyday journeys free from worrying about air pollution or dangerous roads. This is especially important when it applies to the most vulnerable in our society, including children. We are committed to improving air quality and making it easy for residents to use sustainable transport. Healthy School Streets and events like the Big Walk and Wheel all play an important part in creating a healthier place for everyone living and working in Newham."
Curwen Primary School pupil (age 9), Rayyan said: "I'm excited about taking part in the Big Walk and Wheel. I'm a Junior Travel Ambassador at my school and encourage our classmates to travel to school using sustainable transport through our assembly presentations and Walk on Wednesday (WOW) programme. I like walking to school because I see my friends along the way. I can talk to my mum on the way home too, it gives us time to chat at the end of the day."
CEO of The Tapscott Learning Trust and Executive Head Teacher of Curwen Primary School in Newham, Paul Harris, said: "I am very proud to see the enthusiasm and diligence of staff ensuring that all pupils, especially those with additional needs, are involved in cycling projects like the Sustrans Big Walk and Wheel. Adapted bikes have been purchased so all pupils can enjoy cycling and scooting activities. At Curwen we enjoy the best family weeks by taking pupils and their families out for the day on bikes. Our TTLT (The Tapscott Learning Trust) Bikeability Scheme, registered with Bikeability Trust now for the third year, offers Bikeability cycling training to two of our schools across the trust, which we are looking at extending to all of our schools."
School Travel Champion of Curwen Primary School, Swasthi Mahabeer, said: "Being part of Sustrans Big Walk and Wheel is a great opportunity for us to build on our good record of promoting sustainability. This year we have planned activities that include 'Have Your Brakes Checked Day' and 'Bling Your Wheels Day'. Curwen has been a Gold Accredited TfL STARS school for 10 years and our active travel programme includes the Walk on Wednesday initiative, delivering Bikeability cycle training, the promotion of balance bikes and scooters, and promoting pupil voice through the school's proactive Junior Travel Ambassadors.
At least 84% of Curwen's 900 pupils use active travel for the school run, a figure that we're really proud of. We see that active travel is excellent for both physical and mental health. These habits also make the school drop-off and pick-up times more sociable as we see parents and children having chats as they travel to and from school. The entire school community is healthier as a result of our active travel initiatives."
Cycling instructor for TTLT Bikeability Scheme, Liz Bowgett, said: "It has been my privilege to work for the trust at Curwen and North Beckton for the last four years. I am impressed with the enthusiasm of the whole community to be involved with the project. Families have donated bikes and scooters. We have serviced these and given them to pupils who were keen to learn on their own. We have trained pupils from Reception to Year 6 in cycling skills."